Everyone knows that it's best to lead an active lifestyle. Being sedentary for long periods of time is not good for you. With the recent pandemic, many people are spending less time moving around and more time sitting down due in part to the shift from driving to a job, to working remotely. When the pandemic shut down areas where large groups of people would meet together, that included jobs. Companies had to adjust their workforce, so many had employees work from home. Let's take a look at some of the best standing desks out there to help get you back up out of your seat a little bit more.
Standing desk options
What if you've already purchased a traditional desk? Do you have to part with it in order to get a standing desk? Fortunately, you don't have to get rid of your current desk in order to have a standing desk. You can purchase a frame and convertible desk to make your desk into one that you can use while standing. There are even electronic standing desks that remember your preferred height.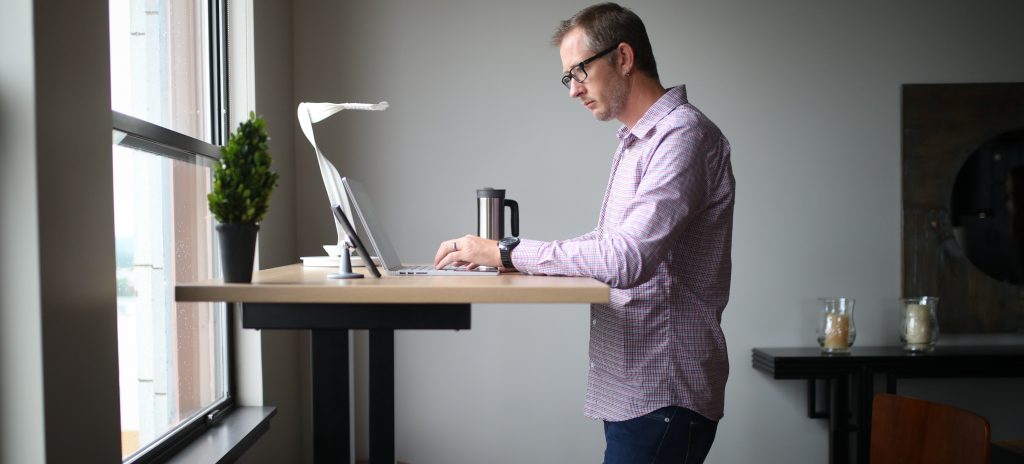 Popular model: Seville Classics Airlift
One of the top picks for standing desks is the Seville Classics Airlift. This desk comes with tempered glass, so you know that it is sturdy. You can adjust it to sit or stand and it holds up to 160 pounds of weight as long as the weight is spread out evenly. It's an electric desk with dual motors to make it fast and easy to adjust the height to the place you would like it.
Higher end model: Herman Miller Renew Sit-to-Stand Desk
Herman Miller has many innovative products that are perfect for the work from home office space. The Renew Sit-to-Stand Desk is one of the most popular models featuring a motorized lift and intuitive lever. It adjusts from 27 to 46 inches. It supports up to 250 pounds with beveled edges that give it a sleek, higher end look. There are a few different options available to customize this desk for your needs.
Budget model: AIZ Mobile Standing Computer Desk
A lower priced desk won't have the same functionality as ones that you spend a little more for, but they can serve their purpose. This model has 31.5 inches of width and 19.7 inches of depth which is plenty of room to get your work done. It also has a storage shelf to add other items that you need for your workday. It will work for your needs at an affordable price.
No doubt, working from home has its pros. When you work from home you can save on the cost of gas or travel to a job. You might not have to spend as much money on clothing and eating out. One of the cons of working from home, though, is that many people are sitting hunched over a computer for hours at a time without getting up to move around. An option to help combat that issue is a standing desk. Standing desks give you an opportunity to get up and move around while continuing productivity. Standing at a desk can help reduce back pain and help aid in weight loss as more calories are burned while standing than sitting. A standing desk should be in every home office.
If you need to sell your MacBook – get your quote now: