Are you about ready for some new tech from Apple? How about an all new MacBook Air? At the end of October, Apple introduced the brand-new MacBook Air.
The newest iteration of the MacBook Air brings a 13-inch Retina display, updated processors, and Touch ID to everyone's favourite notebook. With an all-day battery, what's not to love about this newest device?
New MacBook Air Params
The Colour Options
Everyone loves having options for colours, so you can get a new 13-inch MacBook Air in gold, silver, or space gray. The MacBook Air provides the most affordable Retina display available from Mac and has a keyboard, trackpad, stereo sound, and Thunderbolt 3 ports. It's Apple tech that's portable enough for you to take anywhere you go.  
Retina Display
If you've been really wanting to get your hands on a MacBook with Retina display, this is your chance. There are more than 4 million pixels of resolution in the screen, so all images are sharp and crisp. You can also expect 48 percent more colour from this new device over previous generations. Then there's also the new FaceTime HD camera. You can't really go wrong with the all new MacBook Air.  
Keyboard and Trackpad
The newest MacBook Air has the third-generation designed Apple keyboard. This keyboard was designed with your needs in mind. It's backlit with LED lights. So it's lit up in such a way that you can easily see the keys you are typing even in low-light situations. This newest keyboard is also 20 percent larger than previous keyboards on MacBook Air notebooks. Do you hate the sound of keys clacking away while you are typing? You'll be happy to know that this keyboard is designed to be quieter and more capable than ever before.
Touch ID
If you've been longing to get your hands on some new tech with Touch ID, now's your chance. The all new MacBook Air comes with Touch ID. For those of you not in the know, Touch ID is a fingerprint sensor built right in to the keyboard that you can use to quickly and conveniently unlock your device. You can also use it to make purchases and authenticate your identification. Apple uses the T2 Security Chip to make it secure enough for you to make purchases and keep your info safe from prying eyes. Another feature of the T2 chip is a processor that is always on that lets you make requests of Siri using your voice.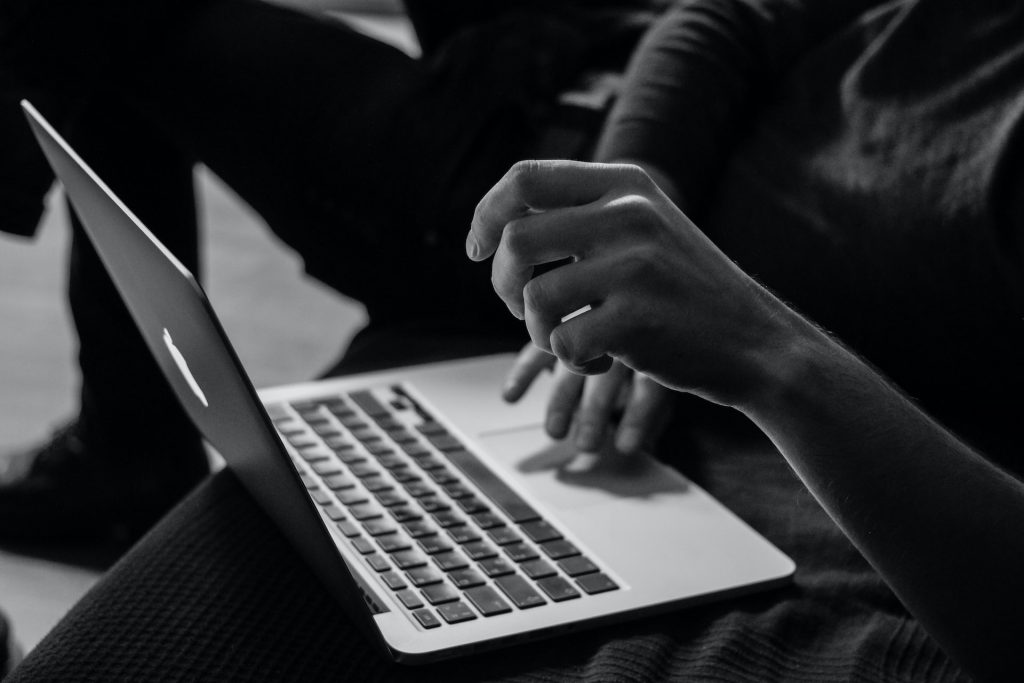 Performance
When you get an Apple product, you are expecting nothing but the best in the way of performance. The MacBook Air doesn't let you down. It has Intel UHD Graphics on this go-round as well as an Intel Core i5 processor. With faster 2133 MHz system memory that you can get with up to 16 GB, you will get plenty of speed for your needs. Whether you just want to search the web or if you have work such as editing videos and photos, you will find that the new MacBook Air is a worthy device that's beyond capable of handling your needs. It's up to 60 percent faster than previous generations when launching apps and opening files because no one has time to waste waiting for a mundane thing like an app to open.  
Audio
Here's what everyone wants to know all about: the sound. You know Apple is always looking to blow you away with their features, and they did not disappoint with the new MacBook Air's sound. The speakers are 25 percent louder and have twice the bass than previous Air generations. That means you can watch all your movies and shows right from your MacBook Air and have an amazing listening experience while immersing yourself right into the action.
If you are thinking about getting the new MacBook Air, what are you waiting for? There are too many features to list in this article, so stop reading and start shopping. You definitely will not regret your decision to purchase this sleek new device from Apple and the faster you go out and get one, the faster you can be learning all about the nifty features that are not mentioned here.
If you need to sell your MacBook – get your quote now: