Apple now has a new offering in their Apple Watch Series 3 lineup. Release date was on September 15, 2017. This is the third iteration of the series that was first introduced in 2015.
The Apple Watch 3 is similar to the Apple Watch Series 2, except it has a new cellular chip. The Apple Watch Series 3 comes in both non-LTE and LTE configuration versions for those who don't need to connect via cellular. Non-LTE Apple Watch Series 3 watches need the iPhone at all times to be able to connect to the internet.
All Information
Changes to the Series 3 Apple Watch
Now Apple Watch has LTE connectivity. That means that users don't have to use their Apple Watch with their iPhone. It's easy to use your Apple Watch 3 without worrying about having the iPhone nearby. You can still get your messages and phone calls. You can also use Siri and listen to your music with just your Apple Watch 3.
Another change to the new Apple Watch is a red Digital Crown. This is a change from the previous series, but it's one of the few changes to the design. One other change is the size of the back crystal that rests on the wrist. It has been extended by 0.25mm. That change is hardly noticeable since it's only about the thickness of a couple sheets of paper.
The Apple Watch Series 3 is available in both 38 and 42mm, so it fits a variety of wrist sizes. It still has the same size and shape as the Series 2 Apple Watch.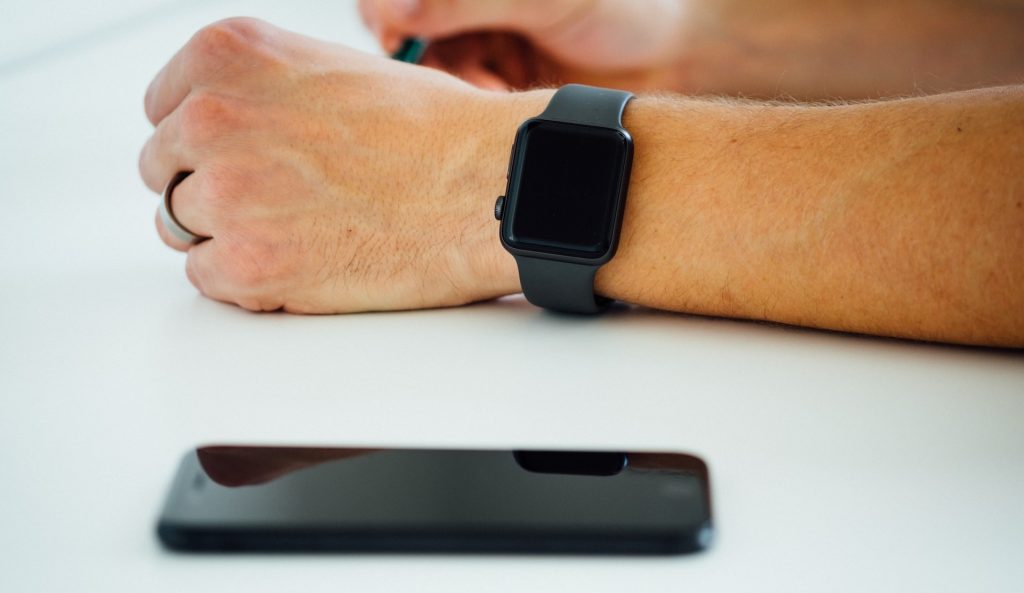 Fitness Uses for Apple Series 3
You can use the Apple Watch for health and fitness as always, and with the built-in activity reminders and individualized fitness goals, you can get real support for your health goals.
Some of the fitness uses for the new Apple Series 3 Watch include metrics like calories burned, heart rate, and steps taken. You can use it to track lots of activities using the workout app and the barometric altimeter. The barometric altimeter can be used to track changes in elevation for when you're hiking in the mountains. You can also use it to track flights of stairs climbed.
Battery Performance
The new dual-core processor in the Apple Watch Series 3 gives it 70 percent more performance than the Apple Watch Series 3. Siri is now faster than ever, and can answer questions aloud. Apple Watch has all-day battery life capabilities, but the use of the LTE will ultimately determine how long the battery lasts.
The W2 Chip in the new Apple Series 3 gives it 85 percent faster Wi-Fi as well as more power efficiency for Bluetooth and Wi-Fi. Bluetooth and Wi-Fi are 50 percent more power efficient. With the new Apple Watch 3, you can enable LTE connectivity as well as some other components which allow the display to turn into a multifrequency LTE antenna.
Other Features of the New Apple Watch Series 3
It still has 50m water resistance and has even better seals so you can use your Apple Watch while you're swimming. You don't have to remove your watch when you hop in the water or if you get caught out in the rain unexpectedly, which is very convenient.
The display on the water resistant Apple Watch is 1,000 nit, which makes its display easy to see whether you're in sunlight or shade. There's also a GPS chip which can be used for recording precise distances and pace when running. There's also a NFC chip for Apple Pay, to make it easy to pay for anything on the go.
Reviews of Apple Watch Series 3
There have been mixed reviews on the new Apple Watch series 3. Some have reported spotty service as well as dropped calls. Others have said that it's not really a necessity to untether the Apple Watch 3 from the iPhone so the LTE capability is not worthwhile. Reviewers did comment that the processor is lightning fast. If you are interested in the newest Apple Watch 3 because it's the newest offering, go ahead and get one for yourself. However, if you're getting it for the LTE capability, you might want to think about if it's really a feature that you would use a lot of.